Osaki Black OS-3D Pro Dreamer Zero-G 3D Massage Chair 5 Year Extended Warranty
Osaki
Regular price $5,249.00 Sale
New


BLACK

OS-3D Pro Dreamer
with 3D Massage
 






 

OS-3D Pro Dreamer

3D Massage Technology.
2 Stage Zero Gravity.
2nd Generation S-Track
Accupoint Technology
Computer Body Scan
MP3 Player Connection
Waist Airbag Squeeze
Auto Leg Scan
6 Airbag Seat and Hip Massage
Heating on Shoulder
Upper Shoulder Massage
Foot & Calf airbag Massage
INCREDIBLE FOOT ROLLER MASSAGE






2 additional years added to the standard 3 year manufacturer's warranty!
What Is Covered*:
This warranty explicitly covers all parts, labor and framework of the chair.
This warranty includes parts costs and labor for the first (3) years at no cost to the customer.
This warranty includes parts costs covered for the 5 years at no cost to the customer.
Structural Framework on selected products carries for three (3) years.
This warranty is only valid with the purchase of the extended 2 year warranty.

Features:
3D Massage Technology.
2 Stage Zero Gravity.
2nd Generation S-Track
Accupoint Technology
Computer Body Scan
MP3 Player Connection
Waist Airbag Squeeze
Auto Leg Scan
6 Airbag Seat and Hip Massage
Heating on Shoulder
Upper Shoulder Massage
Foot & Calf airbag Massage
INCREDIBLE FOOT ROLLER MASSAGE
Deluxe 3D Massage Chair with 2 Stage ZERO GRAVITY & S-Track

10 Auto Programs

48 Air Bags

16 Levels of Intensity Settings

Full Computer Body & Leg Scan

Large LCD Screen Display

Foot Rollers

MP3 Player Connection w/ Vibration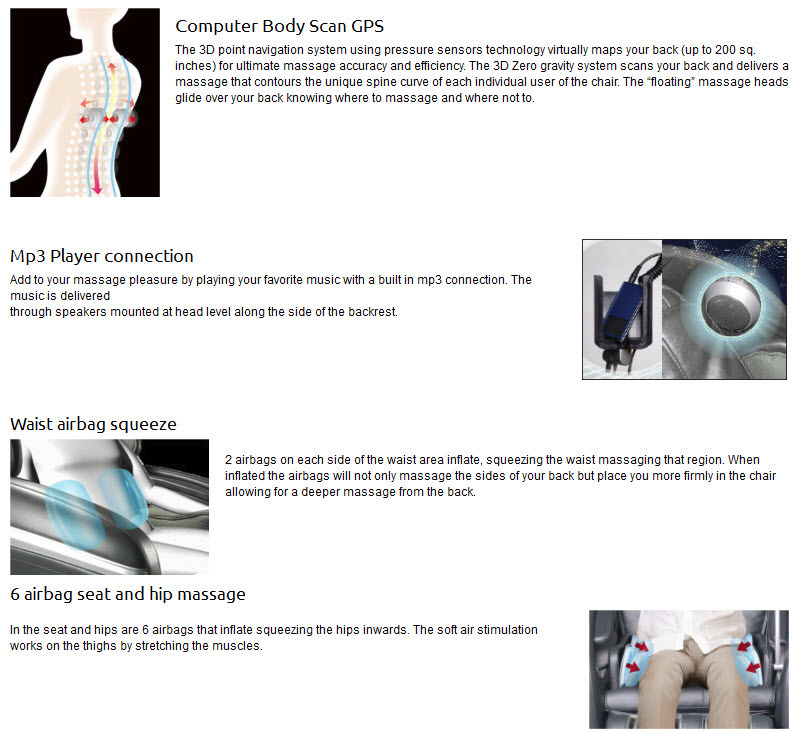 3 Year Rock Solid Warranty / Parts & Labor Warranty
This NON-TRANSFERABLE Warranty is provided by Titan Massage Chair,Inc.
 
They guarantee that your qualified product will be replaced or repaired at their option, without cost to you, should it be deemed defective because of faulty parts, workmanship or structural defects during the first THREE (3) years of ownership.



 

 
---
Shipping terms
We use UPS Freight or Road Runner transportation Services for all shipments.
All shipments come with tracking, insurance and delivery confirmation See listing details for item location. We cannot use personal shipping accounts or alternative methods of shipping.

We ship the within 5 business days upon receipt of full payment and shipping details including phone number. Shipping may take up to 7 business days depending on the remoteness of your location, will send you the tracking # when it becomes available. Note: White Glove delivery will take a few days longer to arrange.

Shipping insurance is included in the total shipping amount on all items.
Customer Pick-up is not available.
Payment terms
We accept PAYPAL only at this time.
We request that you make payment within 4 days of the listing end.
Payment Terms

We accept PayPal only.
Shipping Terms

We ship UPS Ground. Chairs ship out within 4 days. Delivery can take anywhere between 1 to 6 business days (depending on location) Ships from Plano, TX.